Lathe Cutting Services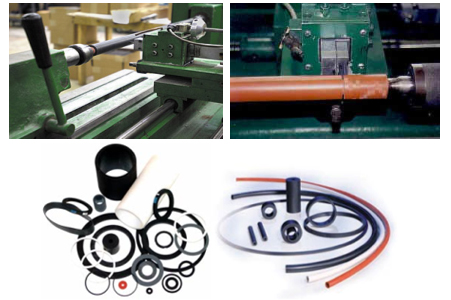 J.J. Short Associates, Inc., is a manufacturer of precision lathe cut seals, gaskets and tubes. We custom manufacture these products to your exact requirements in a wide variety of polymers and sizes. A lathe cut seal is also known as a "square cut" or "rectangular cross-section" seal. Our components are manufactured from a cylindrical rubber tube made from premium sealing grade materials. Our processes are closely controlled to insure the tubing has the proper inside diameter (ID) and wall thickness. The tubing is then vulcanized in a high pressure autoclave utilizing an exact mandrel to form the inside diameter. Once the tube is cured, the product is ground achieving the desired outside diameter (OD) or wall thickness. The tube is then cut to the desired thickness meeting your exacting tolerances.
Lathe Cut parts are an economical alternative to die cut or molded seals, washers and gaskets. With low minimums and a large library of Inside Diameter (ID) and Outside Diameter (OD) tooling, we can do most jobs with minimal or no set-up or tooling charges.
An excellent method to manufacture odd thicknesses. J.J. Short's lathe cutting services can be useful when combined with value-added services such as grinding - to achieve tight tolerance products.. Lathe cutting is also ideal for fast turn-around prototype parts or short run production.
Materials available include:
SBR
Neoprene (Chloroprene Polymer)
EPDM (Ethylene Propylene)
Buna-N (Nitrile)
Natural Rubber
Butyl
Hypalon
Urethane
Silicone
Fluorosilicone
Fluoroelastomer
Viton (R)
Thermoplastic Rubber
FDA Rubber
Whether it is prototype or production runs , the right material matched to the proper manufacturing process coupled with J.J. Short's commitment to quality insures we do it right for you the first time!
If it's made from rubber, contact us!