New Rubber Roller Products
J.J. Short specializes in the manufacture of close-tolerance rubber covered rollers made with a wide variety of rubber coatings including, neoprene, Urethane, Buna N, Nitrile, EDPM, Silicone, Fluorosilicone, Viton ®, Tan Gum, Natural Rubber, Hypalon ® (CSM) and other types of rubber in Shore A and Shore D hardnesses. For various material choices visit our material reference chart.
We work hand in hand with you to insure that your exacting design specifications are met and we recommend areas where we believe we can save you money. Rollers can be solid rubber, hollow sleeves, straight or crowned, grooved or segmented.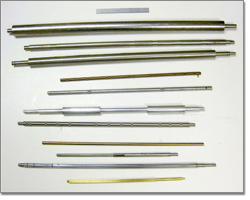 For new rollers you can supply the core for us to cover or we can supply complete. We work with solid rolls and hollow cylinders made from a wide range of metals and plastics including cold-rolled steel, stainless steel, aluminum, Delrin, UHMW, PTFE and more. Journals are toleranced tightly for the bearings on which the roll turns. New cores can be made in varying quantities from one to several thousand. Plating and coating services are available if required for your application.
With the new metal cores in hand, the rollers are cleaned and coated with a bonding agent and are manufactured by molding, wrapping or extruding rubber onto the metal. Using heat and pressure vulcanization cures the rubber, and bonds the rubber to the core. In the case of conveyor rollers many times a permanent bond is not desired so a rubber sleeve is made slightly undersized from the core diameter so the sleeve can be pneumatically slid over the core for a tight, non-slip fit. Cynoacrylate bonding of rubber and metal after curing is also available and particularly useful for segmented rollers, this includes secondary operations to assemble. For plastic cores, rubber sleeves are made and either blown onto the core or glued.
Major Industries Served:
Agriculture
Aerospace
Consumer Products
Conveyor
Distribution
Electric
Electronic
Food Service & Packaging
Health and Medical
Labeling
Laminating
Offset Press
Paper
Photographic
Printing
Woodworking
Many more industrial uses
If your OEM is no longer around we can help! You no longer have to work around the original equipment manufacturer's limited stock designs or bear the cost of complete roller or core replacement. With J.J. Short working with you, your used roller becomes a "like new" roller at a reduced cost and at a delivery time you specify, click here to learn more!
If it's made from rubber, contact us!