Rubber Caps Case Study
Developing the proper material compound.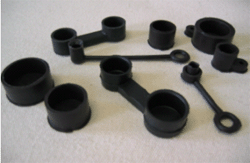 Issue: A leading supplier of secure voice and data communications products, systems, and networks approached us about producing a variety of rubber caps to provide protection of sensitive plug and receptacle connectors on their equipment. Given the wide range of environments to which these tactical radio systems would be exposed, a material was required that would provide the necessary flexibility for ease of use yet be strong enough to withstand even the most extreme physical conditions while keeping mating surfaces clean and preventing moisture and particle contamination by sealing the connector. In addition, many of their existing caps required a multiple step assembly process to connect cords and tethers to secure the cover and caps when not in use.
Objective: The objective was to assist in formulating a material compound that would meet the customerís environmental concerns. In addition where desired manufacture a part with a suitable connection method to secure the cap or plug when not in use.
J.J. Short Processes: We recommended and compounded a high-strength silicone that afforded the customer all the desired attributes they sought for their cap and plug applications. In addition, we were able to work with the customerís toolmakers to design tooling to mold one-piece covers with rubber tethers.
Results: Customer satisfaction! The material chosen has now been ďspecedĒ into a variety of component parts for this customers communication systems. In addition for certain parts, we helped the customer eliminate an entire production step, saving them assembly time and labor. We continue to work with them from prototype through production on caps, covers, plugs and keypads as they continue to develop new systems.
If itís made from rubber, contact us!