Rubber Grommets
J.J. Short Associates, Inc. produces rubber grommets in every shape, size and specification. When the standard catalog of grommets cannot meet your requirements, J.J. Short will work with you to develop custom grommets for all kinds of applications, including insulation grommets, push-in grommets, vibration mounts, blind/plug grommets & Mil-Spec grommets. All of our rubber grommets are custom designed for your application enabling us to meet almost any specification. For more than 30 years, J.J. Short Associates has been a supplier of both standard and precision custom molded rubber grommets to the exact specifications of OEM, industrial, laboratory and engineering development groups. A wide range of elastomers is available to accommodate your operating environment including the need for flexibility and high temperature situations.
Sample of Grommet Styles Produced
Insulation or Push In Grommets:

This style grommet is the most commonly used configuration. Insulation grommets are used in applications where a wire, tube or various other objects need to be passed through metal, plastic or any material that may damage the outside surface of the object while being installed or in use. They are typically pushed into place and come in a variety of styles, the more popular of which are shown above.
Mil-Specification Grommets: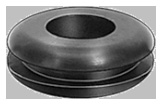 Manufactured to meet MIL-G-3036 and MS-35489, and AN-931 series specified rubber compounds. They insulate and seal around holes cut into panels, while damping vibration and minimizing abrasion. The compounds for these parts were formulated to be used in an environment where fungus or high heat may be an issue.
Vibration Mount Grommets: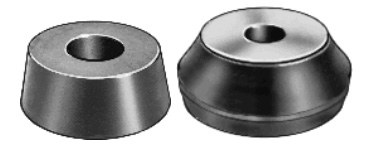 They isolate vibration, shock, and noise and are easy to install under machines and equipment such as generators, HVAC equipment, electric motors, pumps, and blowers. These parts are designed with flanges that are not equal. The thicker of the flanges is intended to be the vibration isolator.
Blind and Plug Grommets: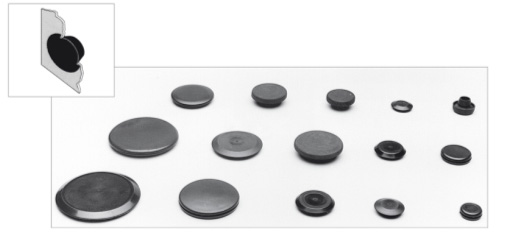 These plugs do not allow things to permeate through them. They are an extremely useful seal that can often replace a grommet connection. Blind and Plug grommets are typically used when a hole has been stamped into a panel for future use, however, at the time of production the hole needs to be sealed.
When your application calls for a type of rubber grommet or plug, do not hesitate to contact us. We can work from a formal drawing, a hand written sketch or an existing part to design and build a rubber grommet that suits your needs. We also work with you to use the best possible material for your application. Further, "short-runs" are our specialty so if you only need a few to a few thousand, contact J.J. Short Associates, Inc. today.
If it's made from rubber, contact us!